Welcome to our Christmas shop
Santa brings The Hub pressies you're unlikely to buy anywhere else! From natural organic beauty products… to energising gem water bottles… to non-toxic nail polishes… to groovy ethical and sustainable bamboo socks… to raw organic handcrafted doTERRA essential oil chocolate… you're guaranteed to find something that's just right to buy and give with love. Our carefully sourced products have been handpicked by our team of experts with your health and well-being at heart, sometimes with a bit of fun thrown in too!
Pop in any time for a browse, or join us for our Open Evening on 6 December 6-8pm to meet the team, shop and enjoy a glass of festive fizz.
Snuggly sustainable socks by Thought
If you're yet to try what sustainable bamboo socks feel like against your skin in the winter, you're missing out. Each pair is completely unique, with designs to bring fun to your feet and maybe a smile to your friends' faces! Crafted from a blend of natural, sustainable bamboo and organic cotton, these socks are soft soft soft and naturally breathable – and as they're also anti-fungal and anti-bacterial they keep feet happy all season long. The practical folk among us have been really impressed how well they wash and how longlasting they are. Love 'em…
If we don't get snow this Christmas, at least you can give his tootsies a sprinkle of
festive snowmen! Single pair,
for men,  £6
Hello, kittie lovers! This pair of playful cat socks comes in its own fun cat-design knitted bag. Two pairs in bag, for
women, £12
Dog lovers, rejoice! These Springer spaniel socks are sure to brighten up your day. Pack of 2 pairs in a cute knitted 'doggie' bag, for women, £12
What better for the man who's a New Forest devotee? Some deer Christmas socks. Single pair,
for men, £6
Never sure whether you prefer stripes or spots? These include both! Single pair, for women,  £6
Iconic festive design with reindeer. Single pair, for men, £6
And we all love figgy pudding… Pack of 2 pairs in a figgy pudding knitted bag, for
women, £12
 One of several 4-pair sets for both him and her. This is the Christmas Eve gift box,
for men, £25
Nurturing nails – winter edition
Dr's Remedy is a top Hub favourite: a non-toxic nail varnish range made from essential oils and vitamins/minerals. You'd be amazed how many chemicals are in standard nail polishes… but Dr's Remedy are totally natural and chemical-free – nourishing your nails rather than wrecking them! So we're now offering Nurturing Nails: non-toxic, divinely pampering, guilt-free luxury mani-pedis using all-natural products, including Dr's Remedy nail polishes. Why not rest those hands and feet in between the busyness of festivities and shopping with a Nurturing Nails treat. Or maybe this is the perfect gift for a loved one? Pop in to see the wide range of nail shades we have in store, including some glitzy shimmering festive colours!
Dr's Remedy non-toxic nail polish Remedy Red
'RES-CUE: to free from confinement'
The Hub's 'go-to' classic Winter shade, shop the Dr's Remedy range to not only nourish your nails with healing essential oils that don't dry out your nails, but to be right on trend for girls of all ages will love. £12.95
Dr's Remedy non-toxic nail polish Magnetic Midnight
'MAG-NET-IC: possessing an extraordinary power or ability to attract'

Calling in magnetic powers of attraction this winter? This bold shade is kind to nails and your health because Dr's Remedy polishes don't contain all the toxic chemicals in standard varnishes. Perhaps a treat for you while you're shopping for everyone else? £12.95
Dr's Remedy non-toxic nail polish Giving Garnet
'GI-VING: providing love, care and emotional support'

Feeling inspired or needing inspiration to spread the loving spirit this Christmas? This wonderful shade will transform your nails with shimmer and sparkle. Contains biotin, tea tree oil, as well as cactus, ginseng and kale for added
hydration. £12.95
Dr's Remedy non-toxic nail polishes – perfect stocking fillers or we can gift-wrap them specially for you
Just a small selection of the wonderful festive shades that are very on trend this Christmas: Noble Navy, Glee Gold and Stability Steel. Come and browse our full selection of colours, ranging from muted neutrals, to classic pinks and corals, to subtle greys. £12.95
Essentially therapeutic - doTERRA oils

OnGuard Blend
A winter immune staple, OnGuard protective blend has incredible uses and benefits that support healthy immune function and it also contains cleansing properties. When taken internally on a daily basis, OnGuard will help promote a healthy lifestyle. Ingest via a beverage of your choice or mix with your favourite dessert recipe for a nutritious twist.
Frankincense
Renowned as one of the most prized and precious essential oils. In addition to its notoriety in the New Testament, the Babylonians and Assyrians would burn frankincense in religious ceremonies and the ancient Egyptians used frankincense resin for everything from perfume to salves for soothing skin. This centuries-old knowledge contributes to the modern uses of frankincense today.
Lavender
With a distinct gentle, restorative aroma and countless applications, lavender has been used for centuries. Lavender essential oil is widely used in cosmetics and perfumes. Applied topically, lavender is frequently used to reduce the appearance of skin imperfections, it is both soothing, calming and promotes a restful restorative
night's sleep.
Melaleuca (tea tree)
Melaleuca essential oil has over 92 different compounds and limitless applications, best known for its cooling and purifying properties. It can be used to cleanse and purify the skin and nails and to support a healthy complexion. Melaleuca is frequently used on occasional skin irritations to soothe
the skin.
Essentially therapeutic - aromatherapy candles
Our candles are special. Lovingly handcrafted using natural premium soy wax (a 100% renewable and sustainable source), they are infused with 100% essential oils. Pure Wight, hand-poured in Bembridge on the Isle of Wight, bring a fresh variety of original candle scents to The Hub – friends of The Hub wouldn't travel without their neat little travel tins. The Orchid Aromatics line-up, by aromatherapist Liz Williams, features two candles, Love and Abundance, with the special bonus that within them there is the extra gift of a lovely crystal – so they burn down to leave you with a lasting memento of Christmas 2019.
Pure Wight travel tins
Pack up your candles in your overnight bags… From fresh and zesty, to herbal, to comforting and homey, we love these gorgeous natural scents. Choose between Lime & Lemongrass, Lavender & Lemon, Geranium & Orange, Rosemary & Bay, Cinnamon, Orange &
Clove. £8.50
Pure Wight boxed candles
Lime & Lemongrass: a zingy combo that's uplifting and refreshing (plus a natural insect repellant). Rosemary & Bay: warm, invigorating and head-clearing, an ideal kitchen candle, helping eliminate cooking odours. Cinnamon, Orange & Clove: spicy, warm and festive with a citrus twist. Plus Lavender & Lemon. £9.50 or £17
Love candle
Infused with bergamot (uplifting and cheerful), geranium (lifts the spirits and relieves stress) and ylang ylang (promotes joy and euphoria and known as an aphrodisiac), the Love candle is pure heart… with a
rose quartz gem, the crystal of unconditional love,
at its centre. £23
Orchid Aromatics
Winter Warm
With cosy festive fragrances of sweet orange to promote a positive outlook and lower blood pressure, clove to pep up immunity and cinnamon to stimulate the brain, decrease blood pressure and boost the immune system. £20
Clean beauty you can trust
Weleda bath milks
Organic, biodynamic, cruelty-free, ethically sourced, sustainable… Weleda is in a world of its own for natural holistic health, having been producing its premium skin and bodycare range for close on 100 years. Choose from invigorating rosemary, relaxing lavender or reviving pine bath milk for a well-deserved long soak. £8 each
Weleda crackers
What a cracker! Relax & Sleep Well contains soothing & calming lavender bath milk and body oil. The Sporty One comprises arnica shower gel and arnica massage oil – the perfect gift not just for the sportif, also for gardeners and outdoor enthusiasts, with arnica, the herb that's the ultimate balm and restorative after you've worked hard and exerted yourself. £6 each
Weleda My Natural Beauty Bag
Bountiful beauty, as nature intended. All contents in this neat organic cotton beauty bag are vegan and free from synthetic preservatives, fragrances, colourants or raw materials derived from mineral oils. Contains several of Weleda's gentle skin saviours: rose-tinted lip balm, almond facial oil, almond facial cream, BB cream, plus Skin Food, the company's world-renowned iconic plant-based restorative for
dry skin. £18
 Weleda Skin Food Travel
A time-honoured, unique blend of pure plant oils, protective waxes and organic plant extracts of healing calendula, soothing chamomile and smoothing viola tricolor, Skin Food is a much loved multi-tasking, multi-award-winning moisturiser. This gift set give you the perfect moisturiser combination for travel of quickly absorbed Skin Food Light and the original deeply enriching Skin Food for areas that need that bit more loving. £10
And RELAXXXX! Recuperate, revive, restore…
Neal's Yard Recharge and
Soothe bath salts
Unwind and soak away your day in a relaxing bath steeped in these delicious bath salts. Recharge with sea salt, seaweed and arnica or Soothe with sea salt, geranium and lavender. £15
Raw chocolate
with essential oils
Our AromaTouch therapist Juanita Duffin has developed special-edition Christmas raw chocolates for The Hub. Flavoured with premium-quality DoTerra essential oils, including wild orange, peppermint and OnGuard, these chocolates are actually good for you! OnGuard in particular is DoTerra's unique blend of oils tailormade to boost your immunity. £6
Mindfulness colouring books
Remember the days as a child when you spent hours engrossed in one small task? That concentration in the moment, shutting out all other thoughts and your surroundings (that got you in trouble with parents, because you genuinely didn't hear them when they called!) is actually a cornerstone of mindfulness to calm the mind. Rudolph Steiner, Weleda's founder, was telling us this in 1921, hence this beautiful book developed by his company with intricate illustrations by artist Lizzie Hobbs. £3.95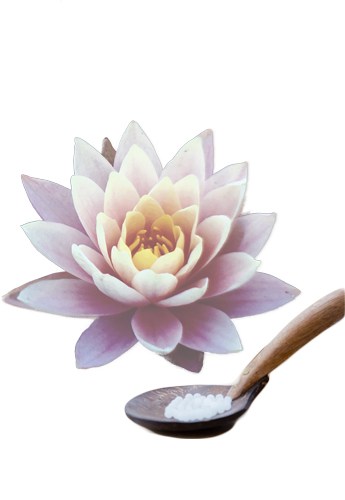 Lotus, the homeopathic
Give Me Strength! 
Roast spuds crisping to burnt, turkey still red raw and, oh, you've just realised you've completely forgotten the bread sauce… Time to turn to the homeopathic bringer of calm, lotus, a remedy that soothes frazzled nerves and enables you to cope whatever the big day holds in store, from kids bouncing onto your bed bursting with Santa excitement at 4am to Uncle Jo droning on about Brexit after a couple or more too
many. £7.50
Crystal healing magic in your water
A special gift to infuse special energy into someone's life via the water they drink. BeWater's unique glass water bottles have interchangeable gemstones sparkling at their core. Choose from 16 different crystal combinations that infuse their magical therapeutic power through your water after 10 minutes.
BeJoy Elements
A beautiful all-rounder. Each of the stones matches one of the elements used in Chinese medicine and when all of these elements are in balance and flowing freely in your body, wellness and vitality result! Ocean agate is associated with hope and renewal, rose quartz with love. Fossil Wood offers stability through change, amethyst brings inner peace and chalcedony is the crystal for inner flexibility and flow. This combo is fresh and vitalising to your entire being. £25.95
 BeLove Harmony
This mixture is all about the rose quartz, the gemstone of love, harmony and connection; along with rock crystal, which is a great distributor of energy and has strong balancing and clarity characteristics. The mixture has a soft energy and promotes love and harmony. Much like its energy attributes, rose quartz is often associated with a strong heart and circulation. Rock crystal is reputed to promote hydration, which is great news for the vitality of your hair, skin and nails. £25.95
BeMagic Water
With red jasper for courage, green aventurine for peace, yellow aventurine for balance, tiger's eye for insight and sodalite for truth, this combo has it all. These stones have been associated with improvements in everything from digestion and metabolism to glowing skin and healthy sleep. More than anything, the delight in drinking BeMagic Water will boost your hydration and lift the health of the entire body! £25.95
BePower Courage 
Bold in orange, carnelian is associated primarily with courage. It is also said to open your social bonds creating the will to help and to connect with others. Ancient warriors wore carnelian around their necks for courage and physical power! Rock crystal, along with promoting general hydration, also strengthens the properties of the carnelian. This mixture is all about the blood. It is believed by many to stabilise circulation and blood pressure and to help with rheumatic complaints. £25.95
Love to B - handmade natural body care
Love to B soaps
Very excited to be stocking Love to B natural body/skin treats! This is a local company who are just lovely – the little touches make these soaps truly special… like real essential oils and a dipping of heather from the New Forest on the patchouli soap. Choose from lavender & patchouli; rose; orange, bergamot & cinnamon; cedarwood & lemongrass; tutti frutti (our favourite); and heather & patchouli. The scents are intoxicating. £5.50
Love to B
Indulge & Pamper gift sets
The ladies at Love to B make all their pamper gifts themselves in Ringwood, they source and use only the best-quality natural products, they believe in natural in every sense of the word – and they've managed to produce some truly lovely products that rival the multinationals. Gift packs of hand balm, soap and bath bomb, steeped in rose, lavender or citrus. £22.50
Love to B bath soaks
Love to B have blended Dead Sea and Himalayan salts which are packed full of minerals with shea and cocoa butters and essential oils to moisturise your skin. Perfect treat for you too: take time out for a warm bath to – between us – detox both body and mind from the relatives. £6.50
Love to B hand balm
Love to B's relaxing Lavender Hand Balm is perfect for softening and protecting your hands. They select some of the finest, nourishing natural oils and butters, renowned for their skin healing properties. Helping to restore your hands to their former glory!  £13.50