Our beautiful Christmas goodies from Weleda and Neal's Yard have arrived at The Hub! Check out what we have to offer with our Christmas gift guide below. From skin basics to indulgent bath salts, there is the perfect gift for everyone. All our products are available to buy any time, as well as on our party night, on 7 December, to celebrate our first six months in business. You better be quick as we have a feeling these gorgeous treats will be snapped up in no time!
Christmas gift guide 2017

1. Weleda 12 Days of Christmas calendar £32, an advent-type calendar containing 12 mini treats
2. Weleda bath milk in lavender, rosemary, pine, arnica and wild rose £13.50 each
3. Weleda lip balm trio in nude, rose and berry £16.95
4. Weleda arnica gift set: arnica muscle soak, arnica sports shower gel & arnica massage oil £12.95
5. Weleda almond soothing facial oil £17.95
6. Weleda skin tone lotion £8.50
7. Weleda kids 2 in 1 shampoo and body wash in happy orange £5.95
8. Weleda creamy body wash in pomegranate and citrus £7.95

9. Neal's Yard Radiance Wild Rose Collection: beauty balm, body elixir, hand cream & muslin cloth £55
10. Neal's Yard Rejuvenate Frankincense Collection: cleanser, toner, hydrating cream & muslin cloth £45
11. Neal's Yard Pure Essential Oils Blends: optimism, vitality, calming, night time £11 each
12. Neal's Yard Revitalise Shower Gel Collection: geranium & orange, rose & geranium, English lavender, rosemary & elderflower £15
13. Neal's Yard rose and pomegranate bath oil £15
14. Neal's Yard bath salts: soothe; aromatic bath salts, rest; lavender bath salts, recharge; seaweed & arnica bath salts £15 each
15. Neal's Yard goodnight pillow mist £15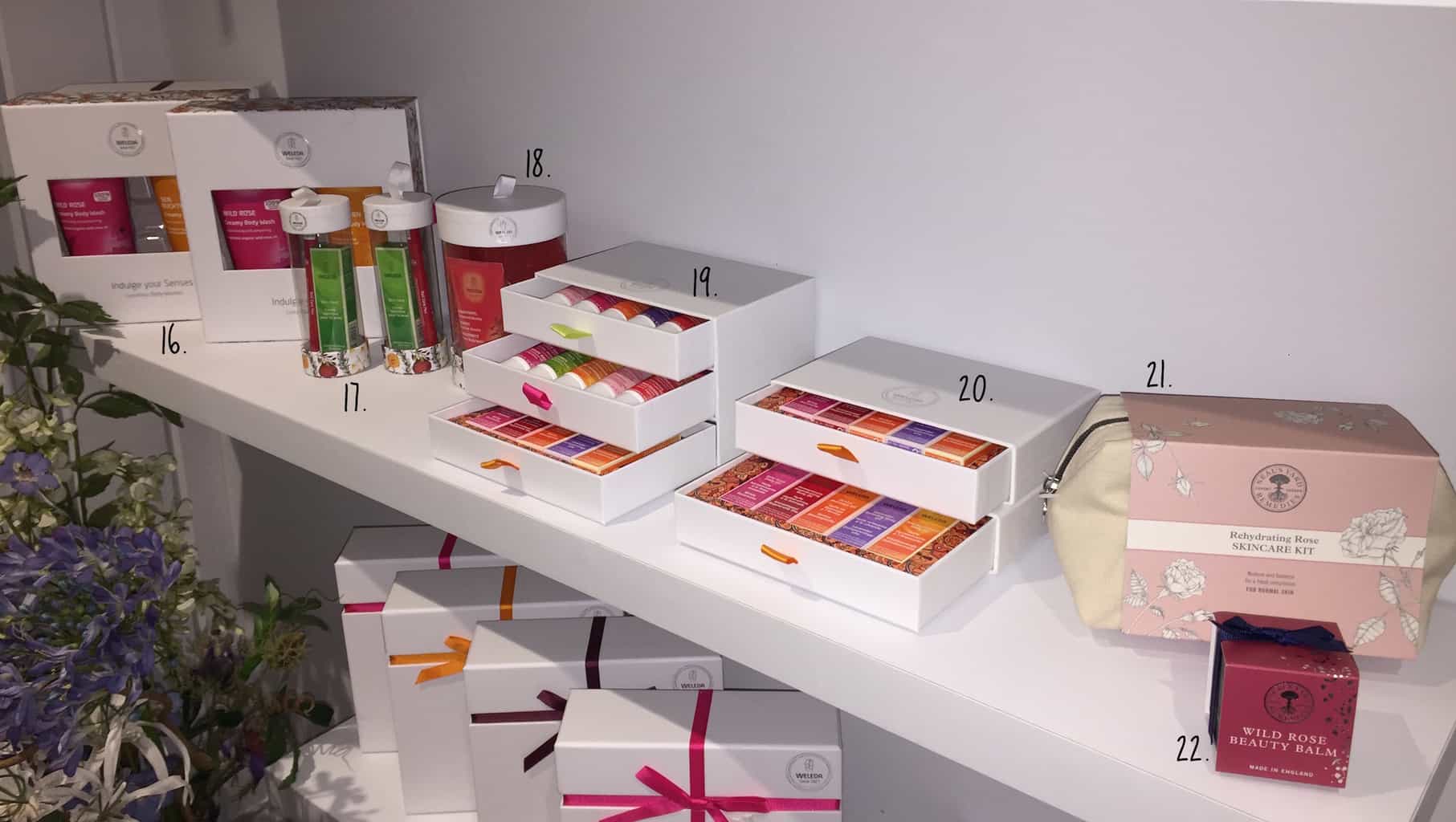 16. Weleda body washes gift set: wild rose & sea buckthorn £14.95
17. Weleda Hand and nail gift set: nail care pen & skin food £7.95
18. Weleda pomegranate body wash and loofa set £6.95
19. Weleda three drawer gift set: 5 body wash, 5 body lotion, 5 body oils £32
20. Weleda mini body oils drawer set: 5 body oils; wild rose, pomegranate, arnica, lavender & sea buckthorn £15.95
21. Neal's Yard Rehydrating Rose Skincare Kit; facial wash, toner, facial oil, daily moisturiser £20
22. Neal's Yard mini wild rose beauty balm £12.50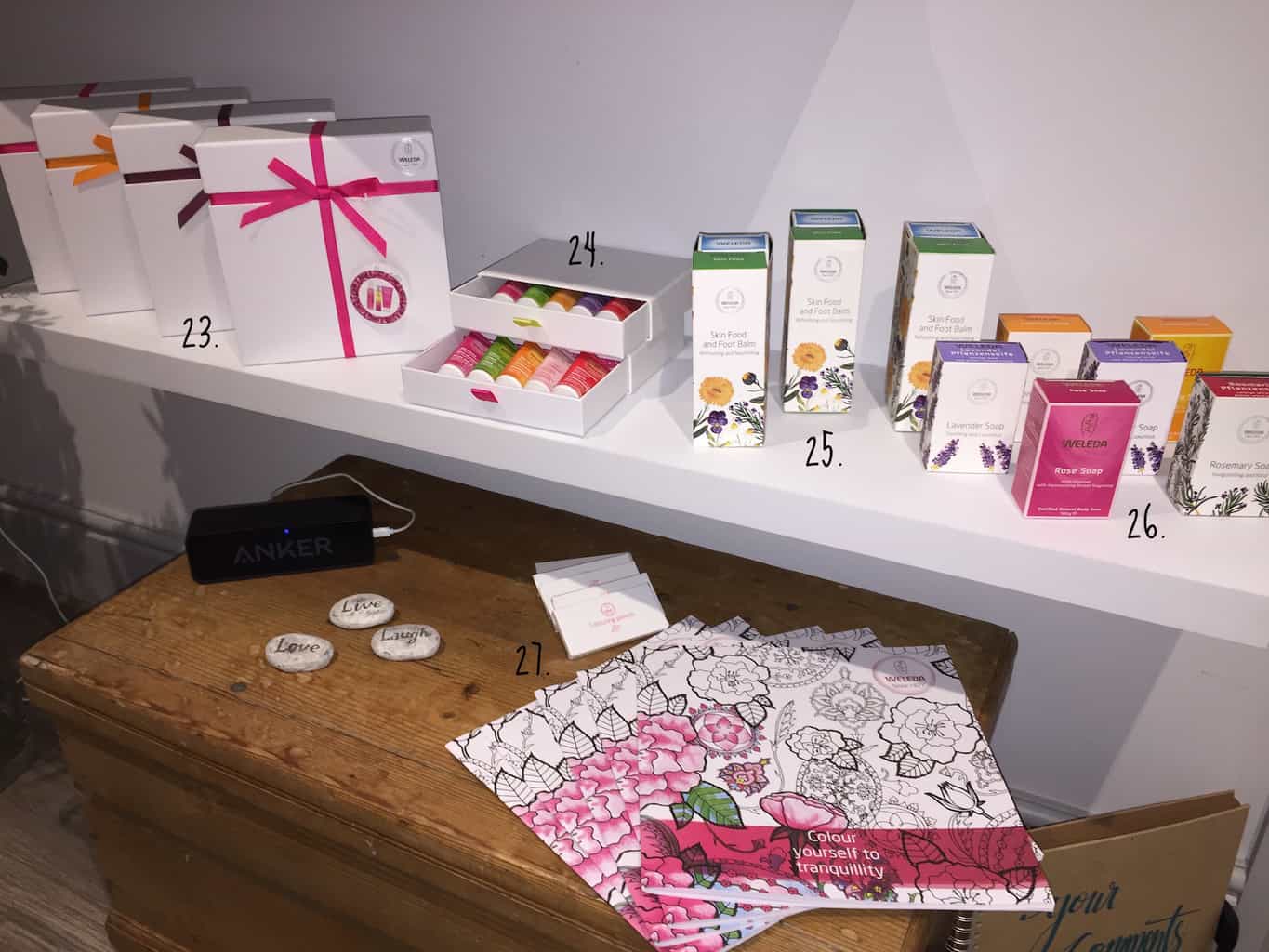 23. Weleda ribbon box gift sets, each come with body wash, body lotion and Jardin de vie: wild rose, evening primrose & sea buckthorn £35
24. Weleda one drawer gift pack: 5 body washes £13.95, 5 body lotions £15.95
25. Weleda skin food and foot balm £15.95
26. Weleda soap: calendula, lavender, rose & rosemary £5.25 each
27. Weleda colour yourself to tranquility book and pencils £3.95
You can find more details on all products at the Neal's Yard or Weleda website.